Two Friends and an Idea
What is now a one of the most popular dive centres on the island, One Two Dive started out as just an idea of two friends. While teaching and managing dive centres all over the wold in places such as Greece, Egypt, South Africa, Thailand and New Zealand they could not find a dive school that would fulfil their high expectations of quality and service.
We are now proud to say, that we have made this dream come true.
As a PADI 5* IDC Dive Centre, One Two Dive offers you the highest quality and service for everything related to scuba diving. From taking your first breath underwater, through your Open Water certification all the way up the the endless possibilities of technical diving. Our highly experienced team will be there to give you comfort and make your scuba diving adventure a fun memory you will never forget.
We work according to the PADI diving system, which is recognised all over the world. With professional training, high attention to detail and high quality equipment, we will make you feel relaxed, safe and comfortable at all times on the surface and in the water.
We do not like rushing our students towards their certification. It is important to us, to keep our groups small and teach you as individuals, not numbers. We love creating great experiences for you and inspire love and respect for nature.
We're passionate about the world of scuba diving and hope you will become so too.
Located inside the 4* Hotel GF Isabel Family, our dive centre offers everything you need to start the day right.
Freshly brewed (free) coffee, a comfy sofa and a flat screen TV prepare you for an amazing diving adventure. An airconditioned classroom allows you to concentrate on theory classes without interruption and our workshop with large glass windows provides you with the best possible view of our service technician in action.
After a long day out in the sea, or after a successfully completed course we love inviting you for a (free)  beer to chat about the day and your experiences underwater.  We have designed a meeting point especially for this purpose and consciously taken the decision to serve beer from the draft in order to save cans or bottles, that might otherwise end up in the ocean.
How to get here:
We are located INSIDE the Hotel Isabel Family in Costa Adeje. To find the dive centre, you simply walk through the reception of the hotel (please register as a visitor at the reception of the hotel) following the signs towards our dive centre. And tadaa: There we are.
To make life easier, please just give us a call or send a message and we will meet you at the reception 🙂
I'm the owner and manager of One Two Dive and speak Spanish, English, Italian, and some German.
I've 12 years of professional diving experience in the best diving paradises around the world.
I can teach numerous specialties such as: Side-mount, Cave, Peak Performance Buoyancy, Navigation, Deep and Nitrox.
I´m also a licensed gas-blender and maintenance technician for all scuba equipment and compressors.
If you want to learn more about the aspects of diving that can help you to become a better diver.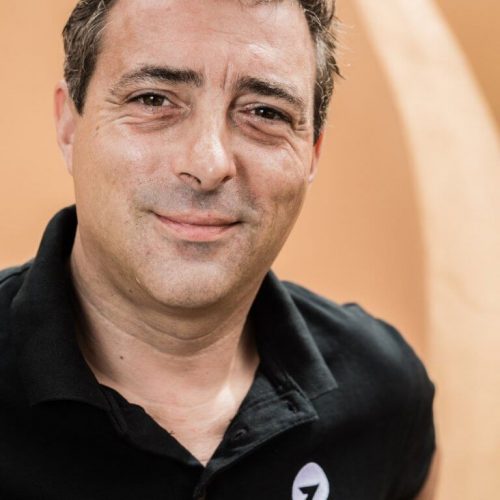 One Two Dive is my company with my philosophy.
I've 10 years of professional diving experience all around the world and speak Dutch, French, English, German and some Spanish.
I specialize in teaching beginner divers but I also can teach Deep, Aware, Nitrox, Wreck, Navigation, Drift, Photography, Emergency First Response, Rescue and Dive Master.
I'm also a licensed maintenance technician for all scuba equipment and handle compressors.
If you are a newbie or someone who wants to learn more about diving I'd love to guide you trough the process of becoming a happy diver.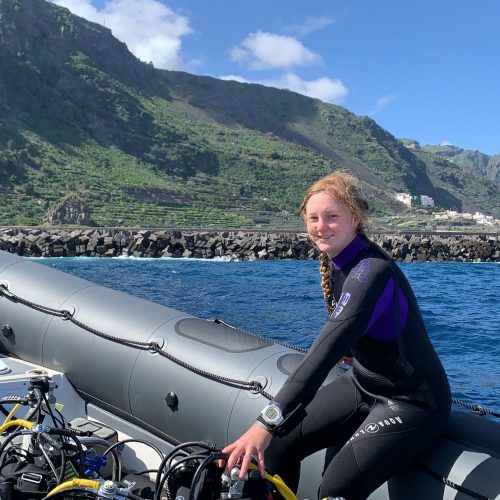 Hi, my name is Nina and I am currently working as a Divemaster at One Two Dive.
I have completed all courses from Open Water Diver all the way to Divemaster here on the island of Tenerife. And: I still cannot get enough of being in the water! There is just so much to explore and the underwater world fascinates me every time more. On our Social Media Channels, I share our most beautiful underwater photos and videos- feel free to check them out!
I am also certified Nitrox, Deep, Drysuit and Sidemount- and therefore happy to assist, if you have any questions about equipment or the courses.
If you are a certified diver, I am happy to guide you and take you to the most beautiful dive spots on the island.
Let's go diving!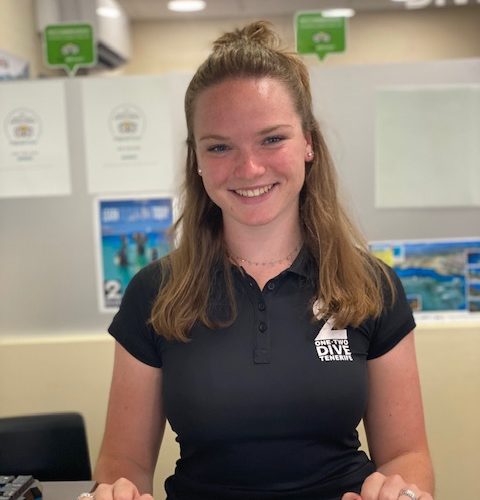 Hi, my name is Vera and I am working as an intern for 12dive. My internship period is for the next 5 months and this is my final internship for my training as Supervisor, Leisure & Hospitality.
What I want to do after my education and internship is working in the outdoor sports and activities. I like to be busy and enjoy standing in front of groups. Hence my choice is to do an internship at 12dive. My goal at 12dive is to learn a lot from everyone and I finished my Open Water Diver & the Advanced Open Diver already. It is a nice and cosy team and everyone helps each other and is ready for each other. I cannot wait to discover and explore more of the underwater world.
For now, you can find me behind the reception and I will be happy to answer your questions. Hopefully I will see you soon with us to make your dive a reality!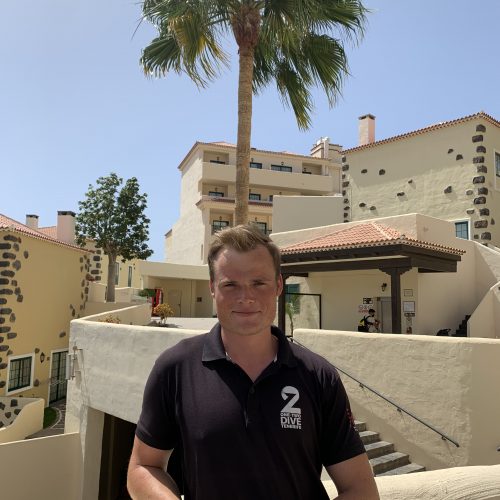 Hi! My name is Robin and you'll mostly find me underwater, working as an instructor.
I already started diving 7 years ago. Since I started falling in love with the underwater nature so much, I decided to keep my diving education going and got certified as an instructor 3 years ago.
I love taking people to the water for their first dive and teaching them on several dive sites on Tenerife. So don't wait too long & join me in the world of diving.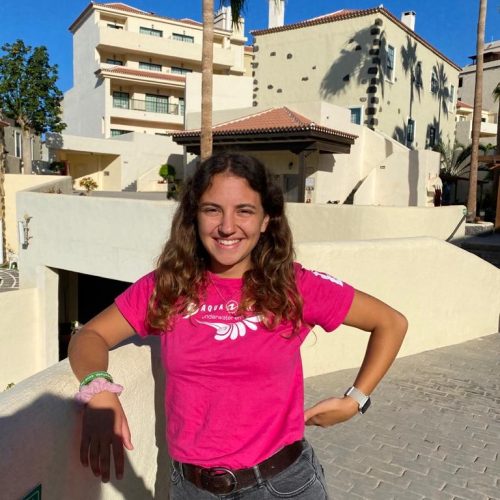 Hi!
I´m Franzi, and for the next 10 weeks you will be able to find me @12dive!
My goal as an intern is to get to know all about the dive center, including not only customer care or finances but also diving itself! Therefore I started my Open Water Course to gain some experience.
After my internship I will continue studying Coastal and Marine Management in the Netherlands. But no worries! Till November you´ll find me in the shop, ready to answer all your questions and fulfill your requests!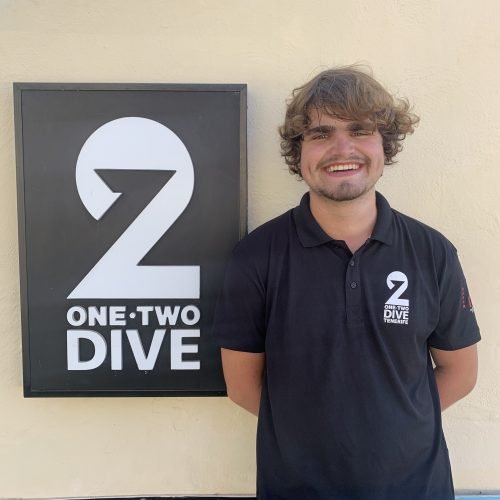 My name is Jonah and I currently work as an intern for 12dive.
I already completed my Open Water Course 2 years ago in Australia. Here on Tenerife, I took a refresher course, to freshen up my skills, and I also started the Advanced Open Water Diver, to gain more experience.
After I complete my Internship I will get back to my study: Coastal and Marine Management. Therefore my goal during the internship is to learn and gain much experience that can help me in my study as well.
So let´s dive in! And hopefully soon I will not only be helping you out in the office but also in the ocean!
What we offer our clients.
The benefits of One Two Dive.
Free Pickups
Free pickups in the south of Tenerife from Golf del Sur to Los Cristianos, Las Americas and Adeje.
Relaxed Manner
We teach you diving in a relaxed manner, step by step and with a low professional to student ratio.
Most comfortable diving equipment
We provide you with the best and most comfortable diving equipment on the market to help put you at ease and relax.
Planning Dives
We plan the dives to suit your needs and requirements so you get the most out of the experience and leave wanting more.
Environmental friendly – Padi Green star award
The PADI Green Star™ Dive Center Award is granted to PADI Dive Centers and Resorts that demonstrate a dedication to conservation across a wide range of business functions, including water conservation, energy use, environmentally friendly transportation practices, use of sustainable materials, conservation leadership and a donation to conservation through Project AWARE. The Green Star Award identifies dive businesses that care about the environment and are acting to protect it.
Are you ready for your scuba diving adventure?