Dos amigos y una idea
Lo que ahora es uno de los centros de buceo más populares de la isla, One Two Dive comenzó como una simple idea de dos amigos. Mientras enseñaban y dirigían centros de buceo por todo el mundo en lugares como Grecia, Egipto, Sudáfrica, Tailandia y Nueva Zelanda, no pudieron encontrar una escuela de buceo que cumpliera con sus altas expectativas de calidad y servicio.
Ahora estamos orgullosos de decir que hemos hecho realidad este sueño.
Como centro de buceo PADI 5* IDC, One Two Dive te ofrece la más alta calidad y servicio en todo lo relacionado con el buceo. Desde tu primera respiración bajo el agua, pasando por tu certificación Open Water, hasta las infinitas posibilidades del buceo técnico. Nuestro equipo altamente experimentado estará allí para darte comodidad y hacer de tu aventura de buceo un recuerdo divertido que nunca olvidarás.
Trabajamos según el sistema de buceo PADI, reconocido en todo el mundo. Con una formación profesional, una gran atención a los detalles y un equipo de alta calidad, haremos que se sienta relajado, seguro y cómodo en todo momento en la superficie y en el agua.
No nos gusta apresurar a nuestros estudiantes hacia su certificación. Es importante para nosotros, mantener nuestros grupos pequeños y enseñarles como individuos, no como números. Nos encanta crear grandes experiencias para ti e inspirar amor y respeto por la naturaleza.
Nos apasiona el mundo del buceo y esperamos que usted también lo haga.
Situado dentro del Hotel GF Isabel Family de 4*, nuestro centro de buceo ofrece todo lo necesario para empezar bien el día.
Un café recién hecho (gratis), un cómodo sofá y un televisor de pantalla plana le preparan para una increíble aventura de buceo. Un aula con aire acondicionado le permite concentrarse en las clases teóricas sin interrupciones y nuestro taller con grandes ventanales de cristal le ofrece la mejor vista posible de nuestro técnico de servicio en acción.
Después de un largo día en el mar, o después de un curso completado con éxito nos encanta invitarle a una cerveza (gratis) para charlar sobre el día y sus experiencias bajo el agua.  Hemos diseñado un punto de encuentro especialmente para este fin y hemos tomado conscientemente la decisión de servir cerveza de barril para ahorrar latas o botellas, que de otro modo podrían acabar en el océano.
Cómo llegar hasta aquí:
Estamos ubicados DENTRO del Hotel Isabel Family en Costa Adeje. Para encontrar el centro de buceo, simplemente pase por la recepción del hotel (por favor regístrese como visitante en la recepción del hotel) siguiendo las señales hacia nuestro centro de buceo. Y tadaa: Ahí estamos.
Para facilitarte la vida, sólo tienes que llamarnos o enviarnos un mensaje y nos reuniremos contigo en la recepción 🙂
I'm the owner and manager of One Two Dive and speak Spanish, English, Italian, and some German.
I've 12 years of professional diving experience in the best diving paradises around the world.
I can teach numerous specialties such as: Side-mount, Cave, Peak Performance Buoyancy, Navigation, Deep and Nitrox.
I´m also a licensed gas-blender and maintenance technician for all scuba equipment and compressors.
If you want to learn more about the aspects of diving that can help you to become a better diver.
Hello, My name is Nina!
I'm a Dive Master getting ready to become a Instructor
I been diving for 6 years, traveling and discovering new places is part of my passion.
I hope I can guide you and show you our incredible underwater world.
Happy Bubbles.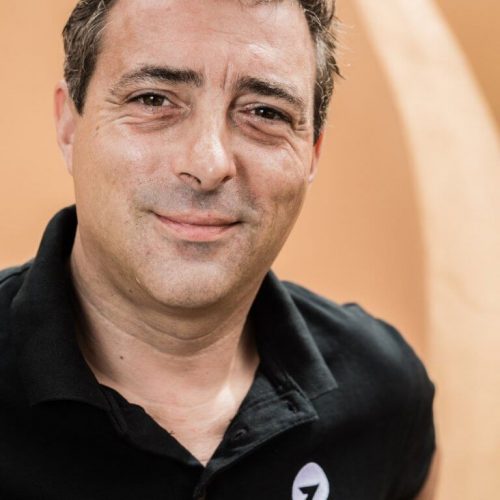 One Two Dive is my company with my philosophy.
I've 10 years of professional diving experience all around the world and speak Dutch, French, English, German and some Spanish.
I specialize in teaching beginner divers but I also can teach Deep, Aware, Nitrox, Wreck, Navigation, Drift, Photography, Emergency First Response, Rescue and Dive Master.
I'm also a licensed maintenance technician for all scuba equipment and handle compressors.
If you are a newbie or someone who wants to learn more about diving I'd love to guide you trough the process of becoming a happy diver.
This is me, Derek!
I finished my Dive Master in 2017 and since then I've been working for various dive centers around the island as a Freelancer.
This summer I found my way to One Two Dive as a permanent freelancer and have been loving it since then!
I am also certified on Deep diving, Nitrox, Wreck and many more.
So let me introduce you to the underwater world of Tenerife as a guide!
Hi my name is Shaun and I now took over the manager position at One Two Dive.
Hi! I'm Joris.
I'm an intern studying International Business in the Netherlands. I want to give you the best experience possible here on Tenerife, hope to see you soon!
Happy bubbles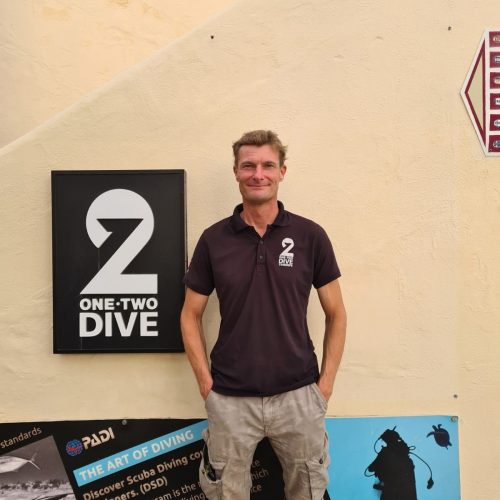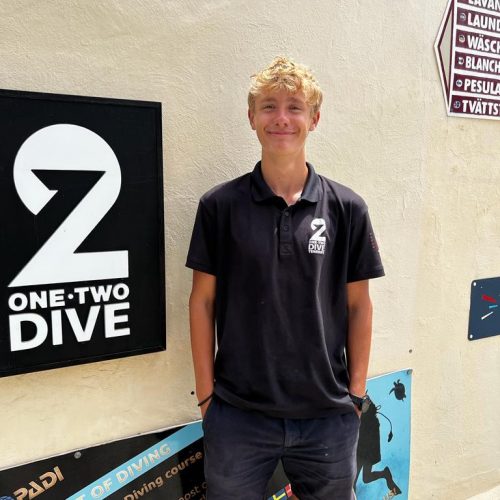 Hello everyone!
I'm Tim, studying International Development Management in the Netherlands and currently here for my internship!
I would love to show you the world of scubadiving. Happy bubbles!
Explore the underwater nature of Tenerife!
Los beneficios de One Two Dive
Transfer Gratuito
Recogidas gratuitas en el sur de Tenerife desde Golf del Sur hasta Los Cristianos, Las Américas y Adeje.
Tomate tu tiempo
Te enseñamos a bucear a tu propio ritmo, paso a paso y con una baja proporción de profesionales por estudiantes.
El equipo mas comodo
Le proporcionamos el mejor y más cómodo equipo de buceo del mercado para ayudarlo a sentirse cómodo y relajado.
Planeando las Inmersiones
Planificamos las inmersiones a la medida de tus necesidades y requerimientos para que aproveches al máximo la experiencia y te vayas con ganas de más.
Amigable con el medio ambiente - Premio estrella Padi Green
El premio PADI Green Star™ Dive Center se otorga a PADI Dive Centers y Resorts que demuestran una dedicación a la conservación en una amplia gama de funciones comerciales, incluida la conservación del agua, el uso de energía, las prácticas de transporte respetuosas con el medio ambiente, el uso de materiales sostenibles, el liderazgo en conservación y una donación a la conservación a través del Proyecto AWARE. El premio Green Star identifica a las empresas de buceo que se preocupan por el medio ambiente y están actuando para protegerlo.