Zwei Freunde und eine Idee
One Two Dive, heute eine der beliebtesten Tauchbasen auf der Insel, begann als Idee von zwei Freunden. Während sie in der ganzen Welt unterrichteten und Tauchzentren leiteten, unter anderem in Griechenland, Ägypten, Südafrika, Thailand und Neuseeland, konnten sie keine Tauchschule finden, die ihre hohen Erwartungen an Qualität und Service erfüllte.
Heute können wir mit Stolz sagen, dass wir diesen Traum verwirklicht haben.
Als PADI 5* IDC Tauchcenter bietet One Two Dive höchste Qualität und Service für alles, was mit Tauchen zu tun hat. Vom ersten Atemzug unter Wasser, über die Open Water Zertifizierung bis hin zu den endlosen Möglichkeiten des technischen Tauchens. Unser erfahrenes Team steht Ihnen mit Rat und Tat zur Seite und macht Ihr Tauchabenteuer zu einem unvergesslichen Erlebnis.
Wir arbeiten nach dem PADI-Tauchsystem, das weltweit anerkannt ist. Mit professioneller Ausbildung, viel Liebe zum Detail und hochwertiger Ausrüstung sorgen wir dafür, dass Sie sich an der Oberfläche und im Wasser jederzeit entspannt, sicher und wohl fühlen.
Wir wollen unsere Schüler nicht zu ihrer Zertifizierung drängen. Es ist uns wichtig, unsere Gruppen klein zu halten und euch als Individuen zu unterrichten, nicht als Nummern. Wir lieben es, großartige Erfahrungen für Sie zu schaffen und die Liebe und den Respekt für die Natur zu wecken.
Wir sind von der Welt des Tauchens begeistert und hoffen, dass Sie es auch werden.
Unsere Tauchbasis befindet sich im 4* Hotel GF Isabel Family und bietet alles, was Sie brauchen, um den Tag richtig zu beginnen.
Frisch gebrühter (kostenloser) Kaffee, ein bequemes Sofa und ein Flachbildfernseher bereiten Sie auf ein tolles Tauchabenteuer vor. Ein klimatisierter Klassenraum ermöglicht es Ihnen, sich ungestört auf den Theorieunterricht zu konzentrieren und unsere Werkstatt mit großen Glasfenstern bietet Ihnen den bestmöglichen Blick auf unseren Servicetechniker in Aktion.
Nach einen langen Tag auf dem Meer, oder nach einem erfolgreich abgeschlossenen Kurs laden wir Sie gerne auf ein (kostenloses) Bier ein, um über den Tag und Ihre Erfahrungen unter Wasser zu plaudern.  Wir haben eigens dafür einen Treffpunkt eingerichtet und uns bewusst dafür entschieden, Bier vom Fass zu servieren, um Dosen oder Flaschen zu sparen, die sonst im Meer landen würden.
Wie man hierher kommt:
Wir befinden uns INNERHALB des Hotels Isabel Family in Costa Adeje. Um die Tauchbasis zu finden, gehen Sie einfach durch die Rezeption des Hotels (bitte melden Sie sich als Besucher an der Rezeption des Hotels an) und folgen Sie den Schildern zu unserer Tauchbasis. Und tadaa: Da sind wir.
Um Ihnen das Leben zu erleichtern, rufen Sie uns einfach an oder schicken Sie uns eine Nachricht und wir werden Sie an der Rezeption empfangen 🙂
I'm the owner and manager of One Two Dive and speak Spanish, English, Italian, and some German.
I've 12 years of professional diving experience in the best diving paradises around the world.
I can teach numerous specialties such as: Side-mount, Cave, Peak Performance Buoyancy, Navigation, Deep and Nitrox.
I´m also a licensed gas-blender and maintenance technician for all scuba equipment and compressors.
If you want to learn more about the aspects of diving that can help you to become a better diver.
Hello, My name is Nina!
I'm a Dive Master getting ready to become a Instructor
I been diving for 6 years, traveling and discovering new places is part of my passion.
I hope I can guide you and show you our incredible underwater world.
Happy Bubbles.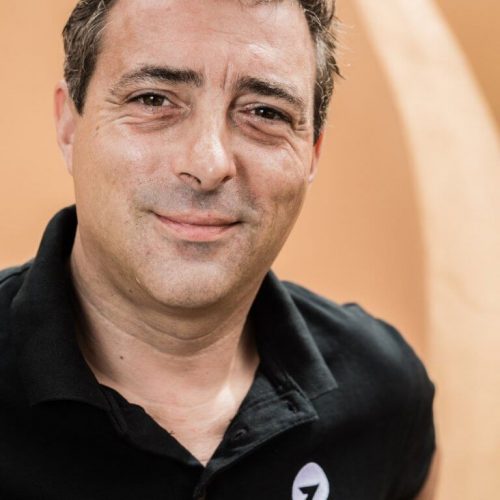 One Two Dive is my company with my philosophy.
I've 10 years of professional diving experience all around the world and speak Dutch, French, English, German and some Spanish.
I specialize in teaching beginner divers but I also can teach Deep, Aware, Nitrox, Wreck, Navigation, Drift, Photography, Emergency First Response, Rescue and Dive Master.
I'm also a licensed maintenance technician for all scuba equipment and handle compressors.
If you are a newbie or someone who wants to learn more about diving I'd love to guide you trough the process of becoming a happy diver.
This is me, Derek!
I finished my Dive Master in 2017 and since then I've been working for various dive centers around the island as a Freelancer.
This summer I found my way to One Two Dive as a permanent freelancer and have been loving it since then!
I am also certified on Deep diving, Nitrox, Wreck and many more.
So let me introduce you to the underwater world of Tenerife as a guide!
Hi my name is Shaun and I now took over the manager position at One Two Dive.
Hi! I'm Joris.
I'm an intern studying International Business in the Netherlands. I want to give you the best experience possible here on Tenerife, hope to see you soon!
Happy bubbles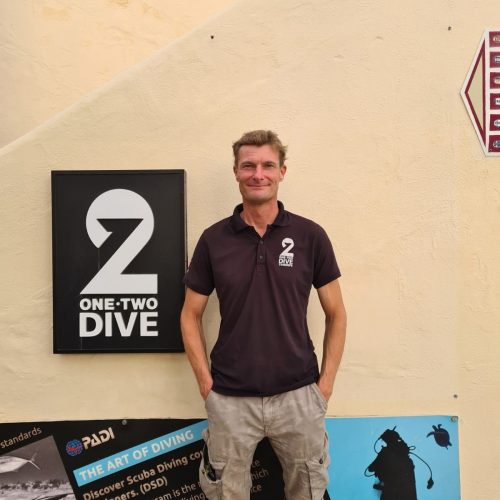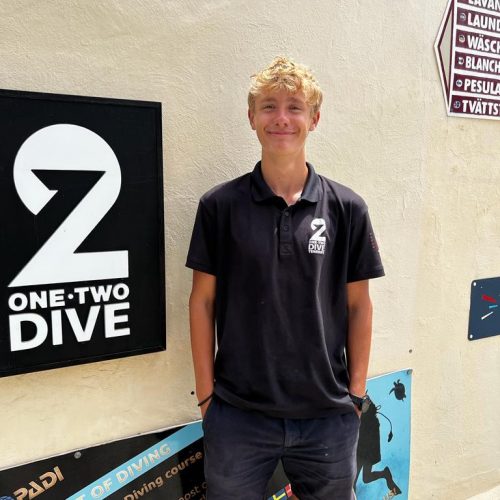 Hello everyone!
I'm Tim, studying International Development Management in the Netherlands and currently here for my internship!
I would love to show you the world of scubadiving. Happy bubbles!
Explore the underwater nature of Tenerife!
Die Vorteile von One Two Dive
Kostenloser Hol- und Bringservice
Kostenlose Abholung im Süden Teneriffas, von Golf del Sur bis Los Cristianos, Las Americas und Adeje.
Entspannte Atmosphäre
Wir bringen Dir das Tauchen in entspannter Atmosphäre bei. Schritt für Schritt und in kleinen Gruppen.
Komfortabelste Tauchausrüstung
Für bestmöglichen Komfort und entspannte Tauchgänge statten wir Dich mit der besten und komfortabelsten Tauchausrüstung aus.
Tauchgangsplanung
Wir richten die Planung unserer Tauchgänge nach Deiner Erfahrung und Deinen Bedürfnissen aus, für das beste Taucherlebnis und dem Wunsch nach mehr!
Umweltfreundlich?! PADI Green Star Auszeichnung
Die PADI Green Star™ Dive Center Auszeichnung wird an Tauchbasen und Resorts verliehen, die sich durch eine weite Reihe von nachhaltigen Unternehmenspraktiken auszeichnen: Sparsamer Umgang mit Wasser und Strom, umweltfreundlicher Transport, Nutzung nachhaltiger Verbrauchsmaterialien und Beiträge zum Umweltschutz im Rahmen des Project AWARE. Die Green Star Auszeichnung zeichnet Tauchzentren aus, denen die Umwelt am Herzen liegt und die an deren Erhalt aktiv beteiligt sind.