Two Friends and an Idea
What is now a one of the most popular dive centres on the island, One Two Dive started out as just an idea of two friends. While teaching and managing dive centres all over the wold in places such as Greece, Egypt, South Africa, Thailand and New Zealand they could not find a dive school that would fulfil their high expectations of quality and service.
We are now proud to say, that we have made this dream come true.
As a PADI 5* IDC Dive Centre, One Two Dive offers you the highest quality and service for everything related to scuba diving. From taking your first breath underwater, through your Open Water certification all the way up the the endless possibilities of technical diving. Our highly experienced team will be there to give you comfort and make your scuba diving adventure a fun memory you will never forget.
We work according to the PADI diving system, which is recognised all over the world. With professional training, high attention to detail and high quality equipment, we will make you feel relaxed, safe and comfortable at all times on the surface and in the water.
We do not like rushing our students towards their certification. It is important to us, to keep our groups small and teach you as individuals, not numbers. We love creating great experiences for you and inspire love and respect for nature.
We're passionate about the world of scuba diving and hope you will become so too.
Located inside the 4* Hotel GF Isabel Family, our dive centre offers everything you need to start the day right.
Freshly brewed (free) coffee, a comfy sofa and a flat screen TV prepare you for an amazing diving adventure. An airconditioned classroom allows you to concentrate on theory classes without interruption and our workshop with large glass windows provides you with the best possible view of our service technician in action.
After a long day out in the sea, or after a successfully completed course we love inviting you for a (free)  beer to chat about the day and your experiences underwater.  We have designed a meeting point especially for this purpose and consciously taken the decision to serve beer from the draft in order to save cans or bottles, that might otherwise end up in the ocean.
How to get here:
We are located INSIDE the Hotel Isabel Family in Costa Adeje. To find the dive centre, you simply walk through the reception of the hotel (please register as a visitor at the reception of the hotel) following the signs towards our dive centre. And tadaa: There we are.
To make life easier, please just give us a call or send a message and we will meet you at the reception 🙂
I'm the owner and manager of One Two Dive and speak Spanish, English, Italian, and some German.
I've 12 years of professional diving experience in the best diving paradises around the world.
I can teach numerous specialties such as: Side-mount, Cave, Peak Performance Buoyancy, Navigation, Deep and Nitrox.
I´m also a licensed gas-blender and maintenance technician for all scuba equipment and compressors.
If you want to learn more about the aspects of diving that can help you to become a better diver.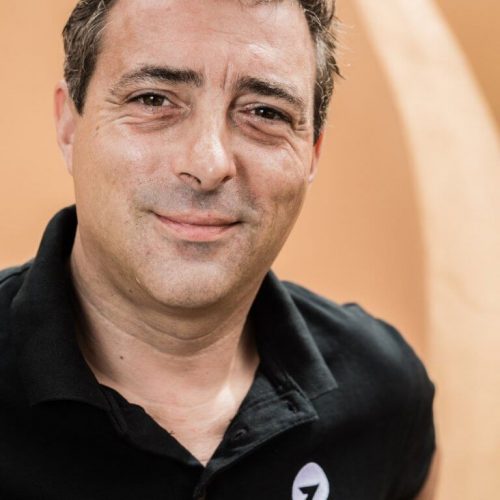 One Two Dive is my company with my philosophy.
I've 10 years of professional diving experience all around the world and speak Dutch, French, English, German and some Spanish.
I specialize in teaching beginner divers but I also can teach Deep, Aware, Nitrox, Wreck, Navigation, Drift, Photography, Emergency First Response, Rescue and Dive Master.
I'm also a licensed maintenance technician for all scuba equipment and handle compressors.
If you are a newbie or someone who wants to learn more about diving I'd love to guide you trough the process of becoming a happy diver.
Hi my name is Shaun and I now took over the manager position at One Two Dive.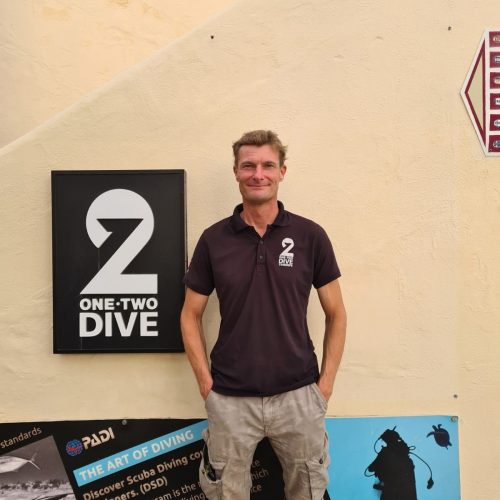 Hello, My name is Nina!
I'm a Dive Master getting ready to become a Instructor
I been diving for 6 years, traveling and discovering new places is part of my passion.
I hope I can guide you and show you our incredible underwater world.
Happy Bubbles.
This is me, Derek!
I finished my Dive Master in 2017 and since then I've been working for various dive centers around the island as a Freelancer.
This summer I found my way to One Two Dive as a permanent freelancer and have been loving it since then!
I am also certified on Deep diving, Nitrox, Wreck and many more.
So let me introduce you to the underwater world of Tenerife as a guide!
Explore the underwater nature of Tenerife!
Die Vorteile von One Two Dive
Kostenloser Hol- und Bringservice
Kostenlose Abholung im Süden Teneriffas, von Golf del Sur bis Los Cristianos, Las Americas und Adeje.
Entspannte Atmosphäre
Wir bringen Dir das Tauchen bei, in entspannter Atmosphäre,Schritt für Schritt und in kleinen Gruppen.
Komfortabelste Tauchausrüstung
Wir statten Dich mit der besten und komfortabelsten Tauchausrüstung aus, für Deinen bestmöglichen Komfort und entspannte Tauchgänge.
Tauchgangsplanung
Wir richten die Planung unserer Tauchgänge nach Deiner Erfahrung und Deinen Bedürfnissen aus, für das beste Taucherlebnis und dem Wunsch nach mehr!
Environmental friendly – Padi Green star award
The PADI Green Star™ Dive Center Award is granted to PADI Dive Centers and Resorts that demonstrate a dedication to conservation across a wide range of business functions, including water conservation, energy use, environmentally friendly transportation practices, use of sustainable materials, conservation leadership and a donation to conservation through Project AWARE. The Green Star Award identifies dive businesses that care about the environment and are acting to protect it.