Twee vrienden met een idee
One Two Dive, is begonnen als een idee van twee vrienden. Tijdens het lesgeven en managen van duikcentra over de hele wereld in plaatsen als Griekenland, Egypte, Zuid-Afrika, Thailand en Nieuw-Zeeland konden ze geen duikschool vinden die voldeed aan hun hoge verwachtingen van kwaliteit en service.
We kunnen nu met trots zeggen, dat we deze droom hebben waargemaakt.
Als PADI 5* IDC Dive Centre biedt One Two Dive je de hoogste kwaliteit en service voor alles wat met duiken te maken heeft. Van je eerste ademteug onder water, over je Open Water brevet tot de eindeloze mogelijkheden van technisch duiken. Ons zeer ervaren team zal er zijn om je comfort te geven en van je duikavontuur een leuke herinnering te maken die je nooit zult vergeten.
Wij werken volgens het PADI duiksysteem, dat over de hele wereld erkend is. Met professionele training, veel aandacht voor details en uitrusting van hoge kwaliteit, zorgen wij ervoor dat u zich ten alle tijden ontspannen, veilig en comfortabel voelt aan de oppervlakte en in het water.
Wij houden er niet van onze studenten op te jagen naar hun certificering. Het is belangrijk voor ons om onze groepen klein te houden en jullie te onderwijzen als individuen, niet als nummers. Wij houden ervan om geweldige ervaringen voor u te creëren en u liefde en respect voor de natuur bij te brengen.
Wij zijn gepassioneerd door de wereld van het duiken en hopen dat u dat ook wordt.
Gelegen in het 4* Hotel GF Isabel Family, biedt ons duikcentrum alles wat je nodig hebt om de dag goed te beginnen.
Vers gezette (gratis) koffie, een comfortabele sofa en een flatscreen TV bereiden je voor op een geweldig duikavontuur. Een klaslokaal met airconditioning zorgt ervoor dat u zich ongestoord kunt concentreren op de theorielessen en onze werkplaats met grote glazen ramen biedt u het best mogelijke zicht op onze onderhoudstechnicus in actie.
Na een lange dag in zee, of na een succesvol afgeronde cursus nodigen we je graag uit voor een (gratis) biertje om na te praten over de dag en je ervaringen onder water.  We hebben speciaal voor dit doel een ontmoetingsplaats ingericht en bewust gekozen voor bier van de tap om blikjes of flesjes te sparen, die anders misschien in zee terecht zouden komen.
Hoe vind je ons:
Wij zijn gevestigd BINNEN het Hotel Isabel Family in Costa Adeje. Om het duikcentrum te vinden, loop je gewoon door de receptie van het hotel (gelieve je als bezoeker te registreren bij de receptie van het hotel) en volg je de borden richting ons duikcentrum. En tadaa: Daar zijn we dan.
Om het leven gemakkelijker te maken, kan je ons bellen of een bericht sturen en wij ontmoeten je bij de receptie 🙂
I'm the owner and manager of One Two Dive and speak Spanish, English, Italian, and some German.
I've 12 years of professional diving experience in the best diving paradises around the world.
Ik kan je verschillende specialiteiten leren zoals: Side-mount, Grot Duiken, Peak Performance Buoyancy, Navigatie, Diep Duiken en Nitrox.
I´m also a licensed gas-blender and maintenance technician for all scuba equipment and compressors.
Als je meer wilt weten over de aspecten van duiken die je kunnen helpen een betere duiker te worden.
Hello, My name is Nina!
I'm a Dive Master getting ready to become a Instructor
I been diving for 6 years, traveling and discovering new places is part of my passion.
I hope I can guide you and show you our incredible underwater world.
Happy Bubbles.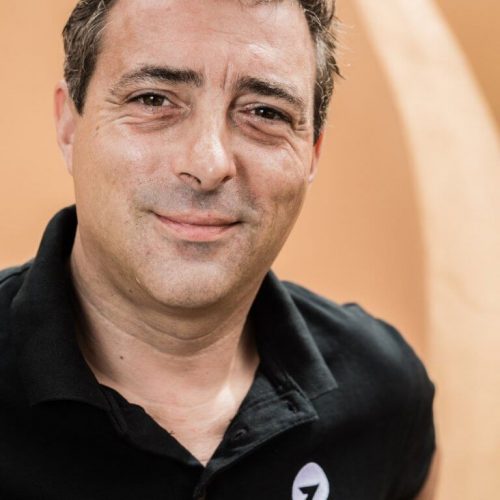 One Two Dive is mijn bedrijf met mij filosofie.
I've 10 years of professional diving experience all around the world and speak Dutch, French, English, German and some Spanish.
Ik ben gespecialiseerd in het lesgeven aan beginnende duikers, maar ik kan ook lesgeven in Diep Duiken, Aware, Nitrox, Wrack Duiken, Navigatie, Drift, Photography, Emergency First Response, Rescue en Dive Master.
I'm also a licensed maintenance technician for all scuba equipment and handle compressors.
If you are a newbie or someone who wants to learn more about diving I'd love to guide you trough the process of becoming a happy diver.
This is me, Derek!
I finished my Dive Master in 2017 and since then I've been working for various dive centers around the island as a Freelancer.
This summer I found my way to One Two Dive as a permanent freelancer and have been loving it since then!
I am also certified on Deep diving, Nitrox, Wreck and many more.
So let me introduce you to the underwater world of Tenerife as a guide!
Hi my name is Shaun and I now took over the manager position at One Two Dive.
Hi! I'm Joris.
I'm an intern studying International Business in the Netherlands. I want to give you the best experience possible here on Tenerife, hope to see you soon!
Happy bubbles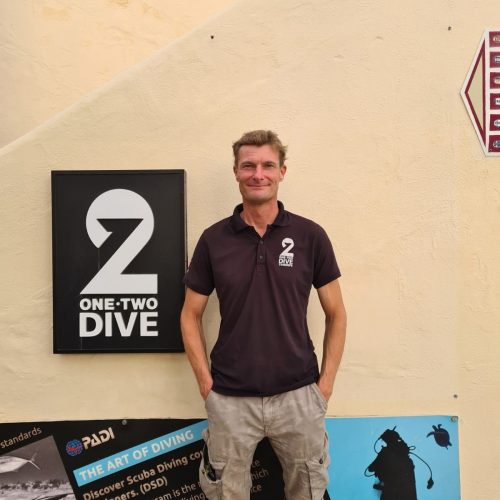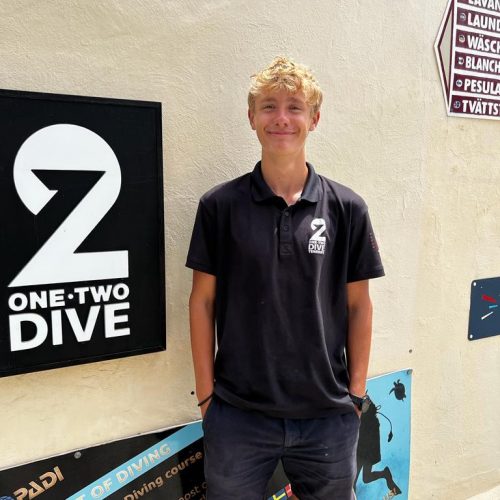 Hello everyone!
I'm Tim, studying International Development Management in the Netherlands and currently here for my internship!
I would love to show you the world of scubadiving. Happy bubbles!
Ontdek de onderwaternatuur van Tenerife!
De voordelen van One Two Dive.
Gratis Pick-up service
Gratis ophaalservice in het zuiden van Tenerife van Gold del Sur tot Los Cristianos, Las Americas en Adeje.
Relaxte manier
Wij leren je duiken op een relaxte manier, stap voor stap en met een lage instructeur tot studenten ratio.
Meest comfortabele duik uitrusting
Wij bieden u de beste en meest comfortabele duikuitrusting op de markt om u op uw gemak te stellen en te ontspannen.
Duiken plannen
We plannen de duiken om aan uw behoeften en vereisten te voldoen, zodat u het meeste uit de ervaring haalt en meer wilt.
Milieuvriendelijk - Padi Green star award
De PADI Green Star™ Dive Center Award wordt toegekend aan PADI-duikcentra en -resorts die bewezen hebben toewijding aan natuurbehoud in een breed schaal van zakelijke functies, waaronder waterbesparing, energieverbruik, milieuvriendelijke transportmethoden, gebruik van duurzame materialen, leiderschap op het gebied van natuurbehoud , en een donatie voor natuurbehoud via Project AWARE. De Green Star Award identificeert duikbedrijven die geven om het milieu en optreden om het te beschermen.